Elevated Dog Bowl, 2 Bowl Classic Farmhouse, Black Bases, With Slow Feed Option
View full details
Regular price
Sale price
$189.99
Unit price
per
Sale
Sold out
Elevated Wooden Dog Bowl
Elevated wooden and durable plastic dog bowl, farmhouse style stand with stained top. These are made to order, and available in three sizes and four colors!
Our two-bowl design is a great fit for "only child" dogs or dogs who like their own territory. Our elevated wooden dog bowl features our heavy base architecture - no more sliding and no more messes!
Our bowls are designed to prevent mold and mildew to gather underneath the bowls, by allowing air to circulate between the bottom of the bowls and the floor. Our dog bowls are secure snugly inside their O-ring cut-out fixture so you don't have to worry.
-Mighty materials – Fend off mess and health hazards with non-porous stainless steel bowls, sustainable bamboo, anti-slip fixtures, and a durable stain seal. Choose a dog dish that prioritizes cleanliness and safety. 
  -Premium comfort– Mealtime should be the best part of the day, not a struggle. Raise your pup's dog food bowl to a comfortable position and reduce pain from bloating, arthritis, or megaesophagus. 
-Pre-assembled, certainly sturdy – Keep food locked in place during the meal rush. Avoid messy swaying and sloshing bowls with a 1-piece, solid farmhouse elevated wooden dog bowl frame and stain seal.
-Practical – Save your pet-loving friend time by giving them a convenient wooden dog bowl stand. Your bowls come dishwasher safe so there its always easy to clean.
-Committed to quality – We understand that your four-legged companions are family—when they suffer, you suffer. Ease your mind and their painwith thoughtfully designed elevated wooden dog bowl.
 Why Consider our raised dog feeder?
Introducing our Wooden Elevated Dog Stand with 2 Stainless Steel Bowl Classic Farmhouse style designs, Black Bases, and a Slow Feed option! This beautifully crafted dog stand is perfect for pet owners who want to give their furry friends the ultimate dining experience, while also promoting healthy eating habits.
Crafted with a classic farmhouse-style design, this

slow-feeder dog bowl stand

will add a touch of charm to your home decor. The wooden construction gives it a warm and natural feel, while the black bases offer a sleek and modern look, making it a perfect fit for any home style.
The elevated design of this

dog bowl stand

provides a comfortable and ergonomic feeding experience for your pet. The height ensures that your furry friend can dine at a height that is both healthy and convenient, while also helping to reduce strain on their joints and aid in digestion.
The two stainless steel bowls are removable and dishwasher-safe, making them easy to clean and sanitize. The elevated design also helps to keep your floors clean by containing any spills or messes your furry friend might make during mealtime.
The Slow Feed option is perfect for dogs who tend to eat too quickly. This feature helps to prevent bloat and other digestive issues by slowing down the pace of their eating. Simply fill the bowl with food and the unique design will help to control the pace of their eating, making mealtime safer and healthier for your furry friend.
Whether you have a small or large dog, this

elevated dog bowl stand

is adjustable to fit their size, ensuring they get the perfect height for comfortable feeding. It's also perfect for dogs with arthritis, joint pain, or other health issues, as the elevated design can help improve their overall health and well-being.
Overall, the 

raised dog feeder

is a practical and stylish solution for pet owners who want to give their furry friends the best dining experience possible. So why not spoil your furry friend with a little luxury and get them their very own elevated dog stand today!
 
**Please note, not all feeders will look exactly the same as photos. Stain shades/base could potentially vary based on wood. Wood top is not treated - it is pine. The feeder will have a rustic/farmhouse look and the wood may have defects.
Checkout our other Awesome Pet Supplies
3 Bowl Dog Feeder Here
2 bowl Elevated dog Stand with Stained Top Here
3 Bowl Dog Feeder, Classic Farmhouse Here
3 Bowl Dog Feeder with Black Bases Here
3 Bowl Dog Feeder with Black Bases and Slow Feed Option Here
3 Bowl Pet Feeder, Elevated (Fully Stained Option) Here
Bamboo Lid Personalized Ceramic Treat Jar Here
Replacement Bowls For Stands Here
Share
View full details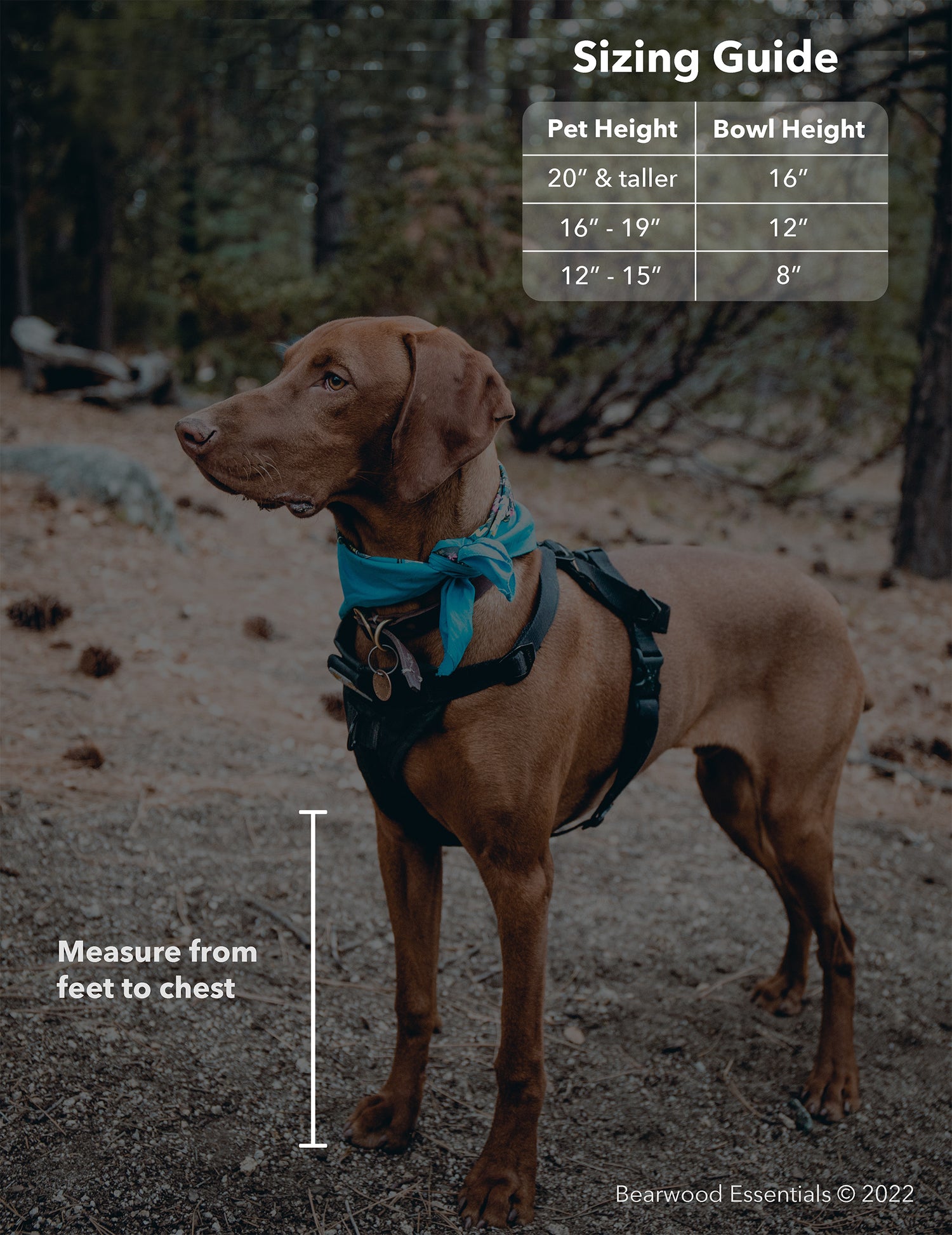 We solve the 5 biggest problems you'll face with other pet feeders
1.  Elevated pet bowls mean no more back pain, digestive issues, or choking down food caused by stooping.
2.  No-spill, mess-free design means a cleaner floor, so your pet, your worry-free when you leave your pup in the room by themself!
3.  To ensure you can keep your pet extra-healthy, we designed our dog bowls to be dishwasher safe, so you can easily keep them clean with little effort.
4.  Classic farmhouse stand designed with pine wood, a sturdy, yet GORGEOUS wood, that we stain with sealer its water resistant quality. Our elevated dog bowls can last a lifetime.
5.  O-ring cut out design creates a snug-fit for your dog bowls. This keeps your dog from knocking their bowls out. We have also designed our elevated dog bowls to be anti-slip, with no scratch feet keep your expensive floors looking beautiful!
Frequently asked questions
1. What size is best for my dog? The best way to determine which size is best for your pet is to measure the height of your pet from the floor to their shoulder. The right size feeder should be 3-4 inches less than the height to your pet's shoulder. You can also refer to our dog bowl sizing guide for guidance.
2. Can my pet flip these bowls? No! The bowls secure snug inside the feeder and prevents your pet from flipping their bowls. The feeders are also heavy and have non-slip feet so your pet cannot move them around your floors or knock the feeder over.
3. Can the bowls be cleaned in the dishwasher? Yes! The bowls are dishwasher safe.
4. Can I buy extra bowls? Yes! If you need more we sell replacement bowl sets for all feeder sizes.
"Simba loves it!"
"So glad we got this for our dog. We had two separate feeders prior to this but this makes the feeding area seem so much more organized! The height is perfect and i love that the water bowl is so deep, since our dog drinks alot. We did take out the food bowls provided and put in a slow bowl feeder, which fit fine."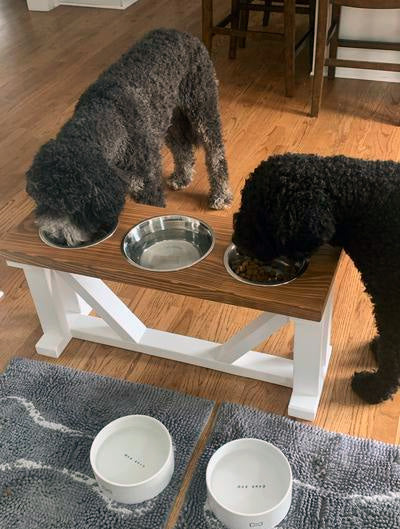 "Love love love this bowl setup"
"Very Well Made and Very nice looking Feeder. We purchased the Large size in Chestnut. Our Dogs love it too. Our 2 medium size Goldendoodles have very long legs. It was hard for our 2 yr old doodle to digest food. Because she had to bend so far to eat out of her bowl, now she eats without difficulties. Also, better for their neck and hips in the long run. I highly recommend this feeder. Plus USA made!!"
"Love this raised feeder!"
"I highly recommend that you purchase from this seller. Made like you want them. Exactly as described in the listing. My dog love this feeder! Thank you so much for making them and having super fast shipping! Sega says thanks! Now his food bowl doesn't slide all over the kitchen floor :)"