Regular price
Sale price
$24.47
Unit price
per
Sale
Sold out
Want An Easy Way To Keep Your Dog Happy And Healthy In Less Than 10 Minutes A Day?
In addition to obesity and health concerns, many experts say that lack of exercise is a leading cause of hyperactive and destructive behavior in dogs. As the owner of two beloved Pit Bull dogs, I'm always looking for ways to keep them well exercised. My busy schedule doesn't allow for the long walks recommended by professional dog behaviorists. I read about something called a flirt pole and thought it would be worth trying out. It works by converting the natural prey drive instinct in dogs into exercise as they attempt to catch the lure by sprinting, changing direction and jumping.
So I bought one of the fiberglass rod flirt poles that are made in China.
The good news is the dogs went crazy chasing the lure.
The bad news is it lasted one day.
One chomp on the tip of the rod and the fiberglass broke and splintered in my dog's mouth.
I was angry and decided to design my own. My new and improved Flirt Pole V2 is made in the USA using components tested for durability, strength, safety and light weight.
The only toy on the market that uses bungee cord to prevent whiplash when lure is caught.
Easily change lures without the use of fasteners that can injure your dog's mouth. The Flirt Pole with the included lure weighs less than one pound.
Soft, non-slip grip and wrist strap for easy handling. Be sure to watch the video to see the Flirt Pole V2 in action.
With our One Year No Risk Guarantee, you can return it for any reason within one year of purchasing for a full refund, including shipping costs (if applicable).
What are you waiting for. Order yours now!
Share
View full details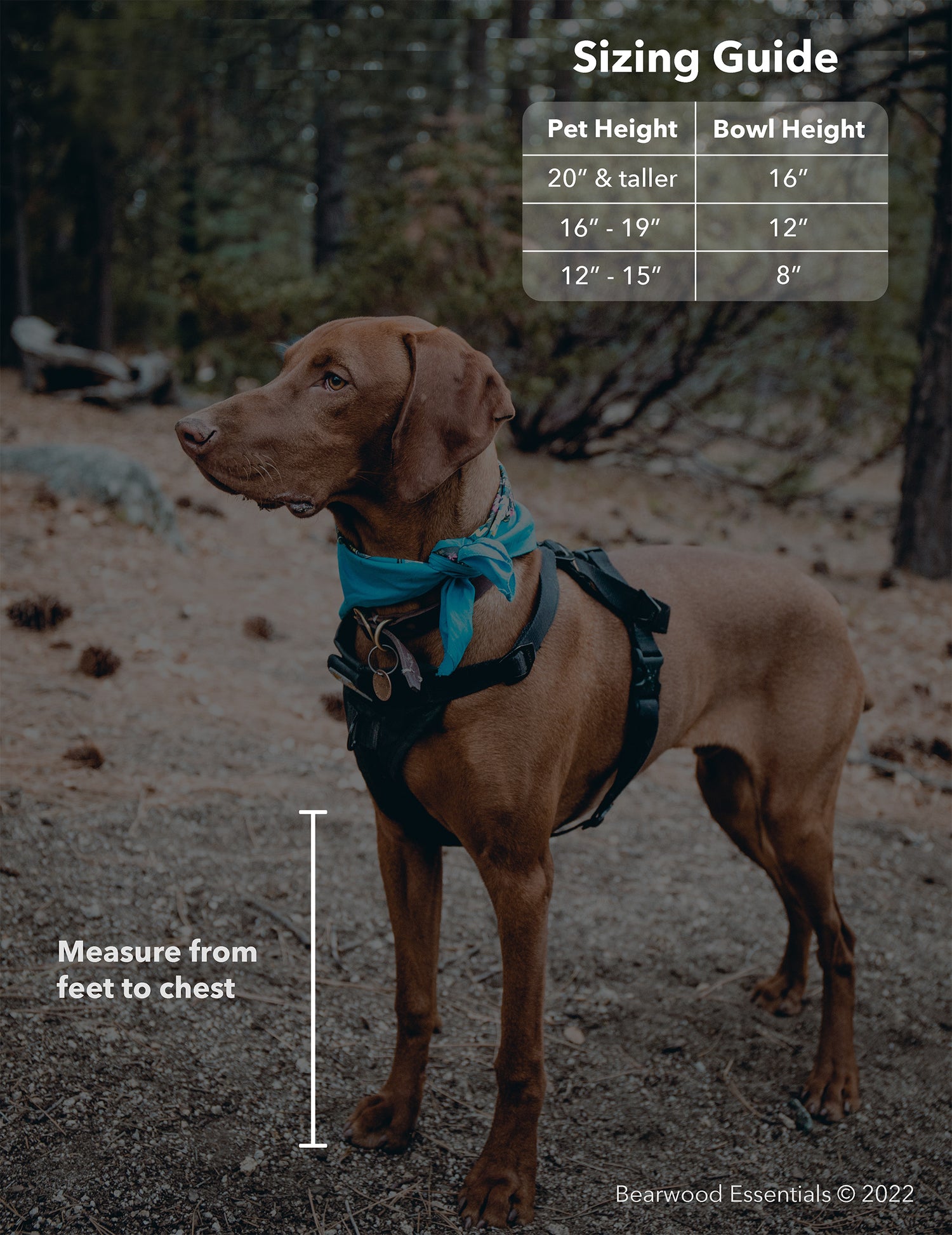 We solve the 5 biggest problems you'll face with other pet feeders
1.  Elevated pet bowls mean no more back pain, digestive issues, or choking down food caused by stooping.
2.  No-spill, mess-free design means a cleaner floor, so your pet, your worry-free when you leave your pup in the room by themself!
3.  To ensure you can keep your pet extra-healthy, we designed our dog bowls to be dishwasher safe, so you can easily keep them clean with little effort.
4.  Classic farmhouse stand designed with pine wood, a sturdy, yet GORGEOUS wood, that we stain with sealer its water resistant quality. Our elevated dog bowls can last a lifetime.
5.  O-ring cut out design creates a snug-fit for your dog bowls. This keeps your dog from knocking their bowls out. We have also designed our elevated dog bowls to be anti-slip, with no scratch feet keep your expensive floors looking beautiful!
Frequently asked questions
1. What size is best for my dog? The best way to determine which size is best for your pet is to measure the height of your pet from the floor to their shoulder. The right size feeder should be 3-4 inches less than the height to your pet's shoulder. You can also refer to our dog bowl sizing guide for guidance.
2. Can my pet flip these bowls? No! The bowls secure snug inside the feeder and prevents your pet from flipping their bowls. The feeders are also heavy and have non-slip feet so your pet cannot move them around your floors or knock the feeder over.
3. Can the bowls be cleaned in the dishwasher? Yes! The bowls are dishwasher safe.
4. Can I buy extra bowls? Yes! If you need more we sell replacement bowl sets for all feeder sizes.
"Simba loves it!"
"So glad we got this for our dog. We had two separate feeders prior to this but this makes the feeding area seem so much more organized! The height is perfect and i love that the water bowl is so deep, since our dog drinks alot. We did take out the food bowls provided and put in a slow bowl feeder, which fit fine."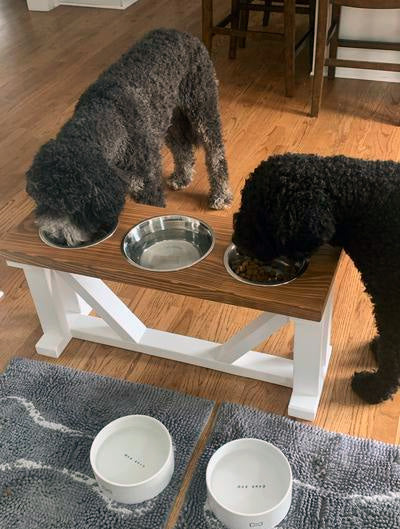 "Love love love this bowl setup"
"Very Well Made and Very nice looking Feeder. We purchased the Large size in Chestnut. Our Dogs love it too. Our 2 medium size Goldendoodles have very long legs. It was hard for our 2 yr old doodle to digest food. Because she had to bend so far to eat out of her bowl, now she eats without difficulties. Also, better for their neck and hips in the long run. I highly recommend this feeder. Plus USA made!!"
"Love this raised feeder!"
"I highly recommend that you purchase from this seller. Made like you want them. Exactly as described in the listing. My dog love this feeder! Thank you so much for making them and having super fast shipping! Sega says thanks! Now his food bowl doesn't slide all over the kitchen floor :)"