Regular price
Sale price
$329.06
Unit price
per
Sale
Sold out

Petique's Trailblazer Pet Jogger is designed for active pet parents who want to incorporate more exercise with their pets. Equipped with shock absorbing wheels for a smooth and stable ride, the sporty Trailblazer Pet Jogger is ideal for both small to large pets, multiple pets, and even pets who are old, handicapped, or unvaccinated. This pet jogger consists of quality, well-ventilated mesh windows that produce optimal airflow as well as help protect your pets from unwanted insects. Your happiness is just as important to us, so we developed an adjustable handlebar that provides a comfortable gripping position to accommodate small children as well as tall adults. We also created one large back pocket to store treats, leashes and other belongings! For extra fun, use our Bike Adapter to connect the Trailblazer Pet Jogger to your bicycle and breeze around town!
Features
Tested to meet the same safety standards as baby strollers!

Reflectors all around pet stroller so people can you see you at night

Adjustable handle to make it comfortable for humans of all sizes to push the jogger

Peek-a-boo window on the top to check on your pets, which you can also unzip and open for your pets to stick their head out

Three adjustable leashes for safety

Two entry ways, one in the front and one in the back

One-step dual wheel brake

All three wheels pop out and the jogger folds flat for easy storage

Large pockets for cell phone, water, snacks, etc.

Removable fabric for easy cleaning so your pet jogger can look good as new

Supports pets up to 60 LB

Patented pee pad insert for messes and easy cleanups

Tire pump included

Four fashions:

Space Gray (Gray)
Atlas (Blue)
Neptune (Turquoise)
Mars (Red)
Sold Separately:
Benefits
Relieves anxiety/stress for your pets if they are not used to being outdoors or around people
Supports Dogs, Cats, and other animals under a total of 60 LB
For pets who still get to be out even though they do not like to walk for long
Humans who can still exercise and take their pets out
Pets who are old or unable to walk and still enjoy being out
Pets who are healing from surgery
Puppies, kittens and other pets who have not been vaccinated
Pets who's paws need protection because the ground is too hot or too cold
Pets who's parents love to take them out traveling, biking, shopping, etc.
Humans who enjoy bike rides
Humans who like to run or jog for miles at a time
For humans who do not mind taking their pets out in the rain because their pets are protected by the rain cover
For pets who are unable to control their bowels
For pets who like to stick their head out the window
Let us know in the reviews how the Trailblazer Pet Jogger benefits you and your pets
Care Instructions
Removable fabric for easy wash (gentle machine wash in a laundry wash bag)

Do not dry in dryer because the mesh will get damaged in the heat

Line dry or air dry ONLY

Do not bleach

Spot Clean
Dimensions
Assembled: 31"L x 23.75"W x 42"H
Seat: 27.5"L x 16.5"W x 23"H
Height from Bottom of Wheel to Top of Handle - Highest setting: 42
Ground Clearance: 12.25H

Share
View full details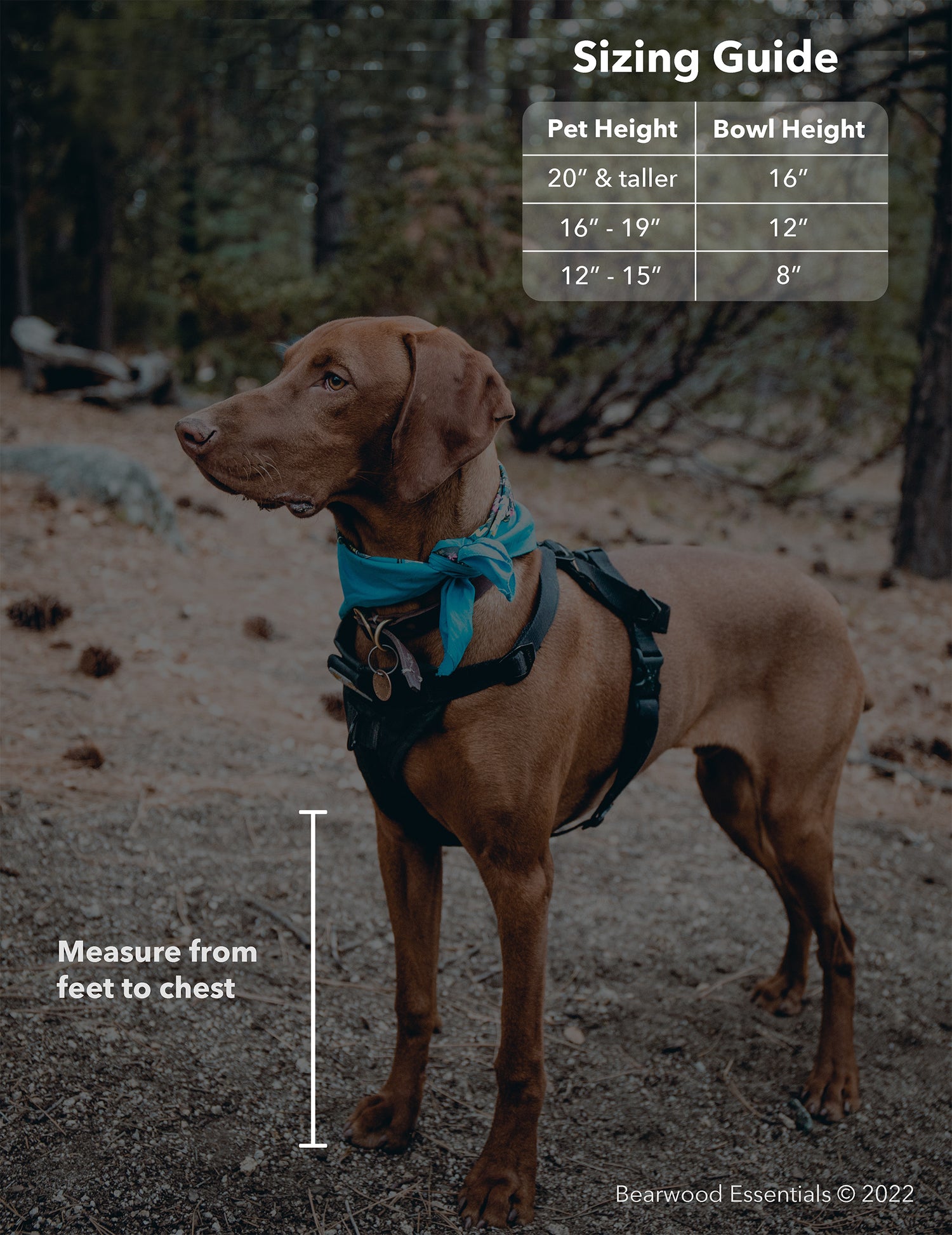 We solve the 5 biggest problems you'll face with other pet feeders
1.  Elevated pet bowls mean no more back pain, digestive issues, or choking down food caused by stooping.
2.  No-spill, mess-free design means a cleaner floor, so your pet, your worry-free when you leave your pup in the room by themself!
3.  To ensure you can keep your pet extra-healthy, we designed our dog bowls to be dishwasher safe, so you can easily keep them clean with little effort.
4.  Classic farmhouse stand designed with pine wood, a sturdy, yet GORGEOUS wood, that we stain with sealer its water resistant quality. Our elevated dog bowls can last a lifetime.
5.  O-ring cut out design creates a snug-fit for your dog bowls. This keeps your dog from knocking their bowls out. We have also designed our elevated dog bowls to be anti-slip, with no scratch feet keep your expensive floors looking beautiful!
Frequently asked questions
1. What size is best for my dog? The best way to determine which size is best for your pet is to measure the height of your pet from the floor to their shoulder. The right size feeder should be 3-4 inches less than the height to your pet's shoulder. You can also refer to our dog bowl sizing guide for guidance.
2. Can my pet flip these bowls? No! The bowls secure snug inside the feeder and prevents your pet from flipping their bowls. The feeders are also heavy and have non-slip feet so your pet cannot move them around your floors or knock the feeder over.
3. Can the bowls be cleaned in the dishwasher? Yes! The bowls are dishwasher safe.
4. Can I buy extra bowls? Yes! If you need more we sell replacement bowl sets for all feeder sizes.
"Simba loves it!"
"So glad we got this for our dog. We had two separate feeders prior to this but this makes the feeding area seem so much more organized! The height is perfect and i love that the water bowl is so deep, since our dog drinks alot. We did take out the food bowls provided and put in a slow bowl feeder, which fit fine."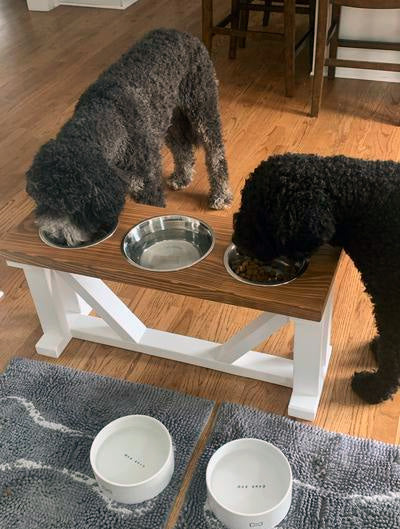 "Love love love this bowl setup"
"Very Well Made and Very nice looking Feeder. We purchased the Large size in Chestnut. Our Dogs love it too. Our 2 medium size Goldendoodles have very long legs. It was hard for our 2 yr old doodle to digest food. Because she had to bend so far to eat out of her bowl, now she eats without difficulties. Also, better for their neck and hips in the long run. I highly recommend this feeder. Plus USA made!!"
"Love this raised feeder!"
"I highly recommend that you purchase from this seller. Made like you want them. Exactly as described in the listing. My dog love this feeder! Thank you so much for making them and having super fast shipping! Sega says thanks! Now his food bowl doesn't slide all over the kitchen floor :)"